Learn about ZOB!
Are you a pilot? Are you a controller looking to join your first facility or are interested in a transfer/visit? Learn more about ZOB and what we have to offer below!
Take a Peak
Have Feedback?
We love hearing from pilots who traverse through our airspace and the quality of service from our controllers here at ZOB. Login to submit feedback!
Did someone say events?
ZOB hosts at least 1 event per month, not including various support events. Scroll down to see what events are on the calendar, and mark the dates! We hope to see you there! Upcoming Events
Join the Cleveland ARTCC in flying within or controlling for our home or support events listed below.
---
Loading...
The Crossroads
Of The NAS
Cleveland ARTCC is one of the 20 contiguous ARTCCs represented in the VATUSA Division of the VATSIM Network. We are home to the smallest en-route facility by area, but effectively work a wealth of traffic from our variety of different fields in our airspace ranging from our more popular airports: Detroit (DTW), Cleveland (CLE), and Pittsburgh (PIT); to smaller fields such as Clarksburg (CKB) or Arnold Palmer Regional (LBE).

Our airspace is designed with many details in mind with our re-designed airspace in the Detroit TRACON (D21) and Cleveland TRACON in which we utilize Area Navigation (RNAV) routes to bring a wealth of traffic into and out of our terminal airspace. In addition to being home to a variety of IFR and VFR traffic whom transit our connected terminal airspace, ZOB is proud to be home to one of the most complex enroute airspaces in the NAS serving our surrounding New York (ZNY), Chicago (ZAU), Boston (ZBW), Washington (ZDC), Toronto (ZYZ), Minneapolis (ZMP), and Indianapolis (ZID) ARTCCs/FIRs. Our intra- and inter-facility traffic provides a wealth of opportunities for pilots to depart, arrive, and transition our terminal and en-route airspace.


Pilot Briefing
Active Splits
---
So, why should you
join
Cleveland?
Our Information Display System
ZOB is proud to have a one-of-a-kind IDS which provides pertinent supplementary information to controllers. We feature a facility graphical map (with PIREPs, SIGMETs, active splits, and more), integration with vATIS, and host information directly from our SOPs/LOAs all into a "one stop shop".
Our Training & Learning Center
Not only is ZOB home to a large
training staff
and consistent training schedules, we are proud to host a Learning Center which is our
hub
for rating and field specific CBTs and exams which are utilized by students on a daily basis to learn, review, and maintain currency.
Our Flight Data Practice System
Within our Learning Center, ZOB has various resources but our most prized possession is our Flight Data Practice System (FDPS). The FDPS provides interaction with aircraft flight strips which are used to learn/review LOAs and practice application of flight data procedures; the system providing live feedback, allowing you to excel on the network.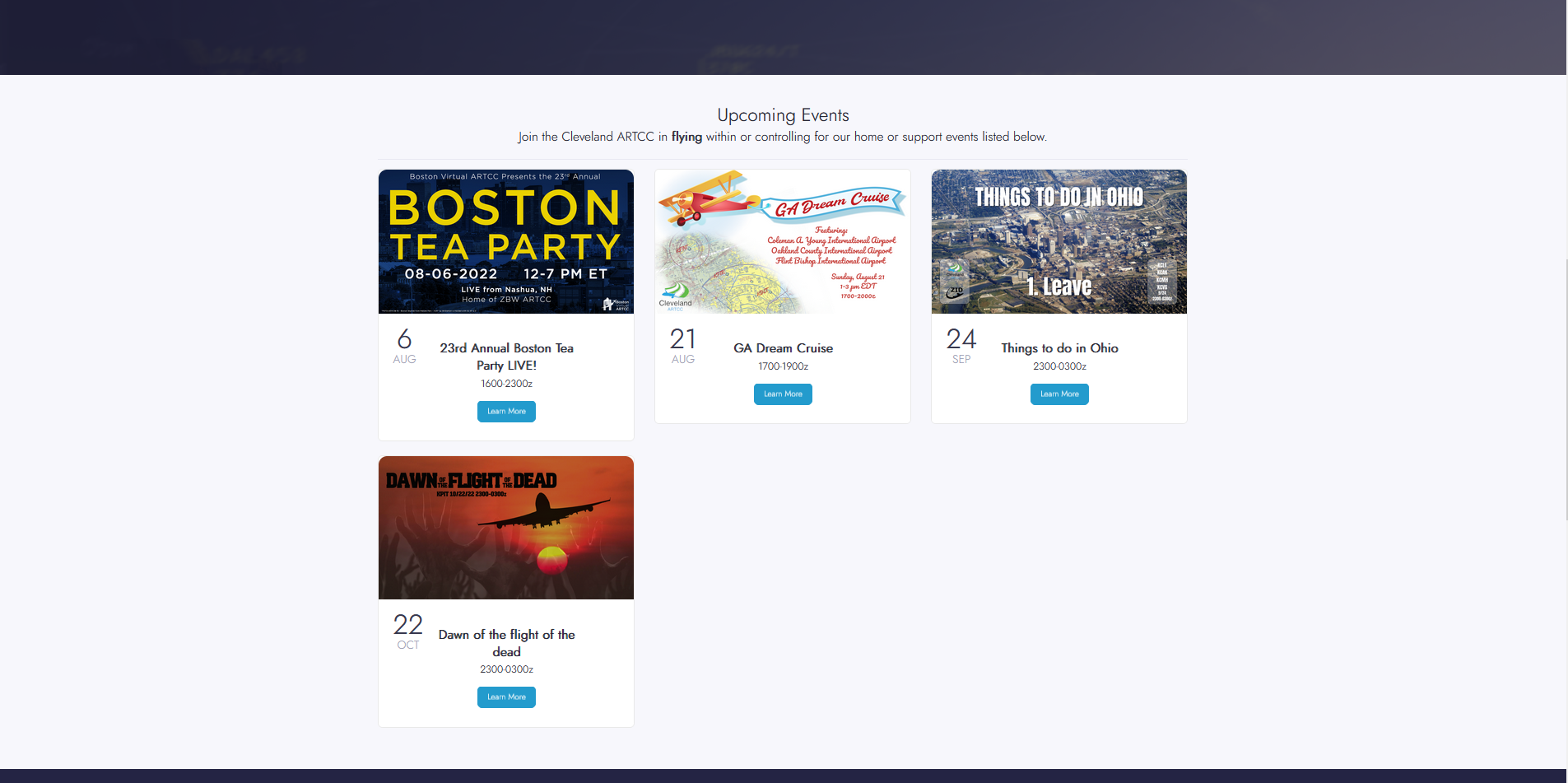 Our Events
ZOB has a brilliant and professional staff and events team who work collaboratively to provide, at least, 1 event per month (hosted by ZOB) for controllers and pilots alike. On our roster, you can expect to have plenty of opportunity to practice your skills with event-level traffic, interact with other controllers, and develop lasting bonds with members of ZOB.
Convinced yet?
If so, you can utilize the buttons below to join or visit the Cleveland ARTCC and join our growing roster of amazing students and controllers!
Join Us
Login to Visit Us